Coaxial Electrospinning for Targeted Drug Delivery in Wound Dressings
Coaxial electrospinning is a widely used technique for creating functional materials, including drug-delivery systems for wound dressings. In this application note, we demonstrate the use of a coaxial electrospinning machine and its spinneret with two concentric needles to create electrospun fiber mats with red markers. This capability has potential applications in targeted drug-delivery systems, such as using electrospun fibers loaded with therapeutic drugs for wound dressings.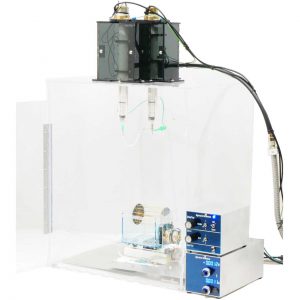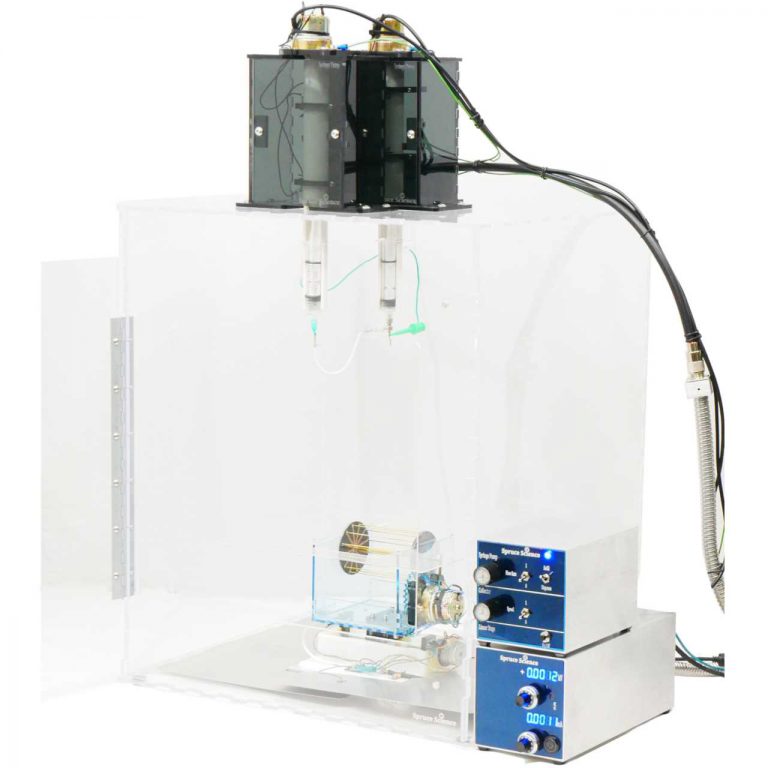 Collector:
The collector assembly is an essential part of the electrospinning process, as it is used to gather the electrospun fibers produced by the ejected polymer jet. These fibers are positively charged and are attracted to the grounded brass rods on the conductive brass wire drum of the rotating collector. The rotation speed of the collector is adjustable, allowing you to fine-tune your process to achieve the desired results. The wire frame design of the collector helps align and stretch the fibers as they gather over the gap, and it also helps to minimize surface contact with the electrospun fiber mat, making it easier to remove after the electrospinning process. This design helps to reduce adhesion and facilitate the use of the fiber mat for various applications.
Coaxial Spinneret:
The coaxial spinneret allows you to mix and match two independent flow paths through its two concentric needles. These flow paths come together at the tip, providing endless possibilities for creating a variety of fibers.
Syringe Pumps:

The coaxial electrospinning setup uses two syringe pumps to deliver sample solutions to the center and outer needles of the coaxial spinneret. These syringe pumps are independent and have been designed with electrical insulation to withstand high voltage during the electrospinning process.

The sample is held inside the syringe pump assembly, which is a small pump used to gradually deliver a small amount of sample solution for electrospinning. The syringe pump is integrated into the coaxial electrospinning machine and is oriented in a vertical position. The syringe pump housing is made of insulating plastic tubing, providing electrical insulation that allows high voltage to be applied directly to the needle and sample solution.

Controller:
The controller with its analog interface allows you to have intuitive control over the collector and syringe pumps.
High Voltage Power Supply:  
The adjustable high voltage power supply is a crucial component of the electrospinning setup, as it allows you to control the output and customize it to your specific needs. You can switch between constant voltage mode and constant current mode to suit your specific requirements. The LabMate high voltage power supply used in this experiment is capable of delivering a powerful 30 kilovolts and has a current output limit of 400 microamps.

It is important to note that having a reliable high voltage power supply is essential for electrospinning, as the intense electric field is the primary driving force behind the process. LabMate is a compact and versatile high voltage switch mode power supply that is ideal for use in space-constrained systems. Its compact form factor and high integration make it easy to use and convenient for even the simplest experiments.

High Voltage Connection to Sample: 
To connect the high voltage output to the sample, we use a hook clip. It is important to always verify that the high voltage is off and fully discharged before touching any of the equipment.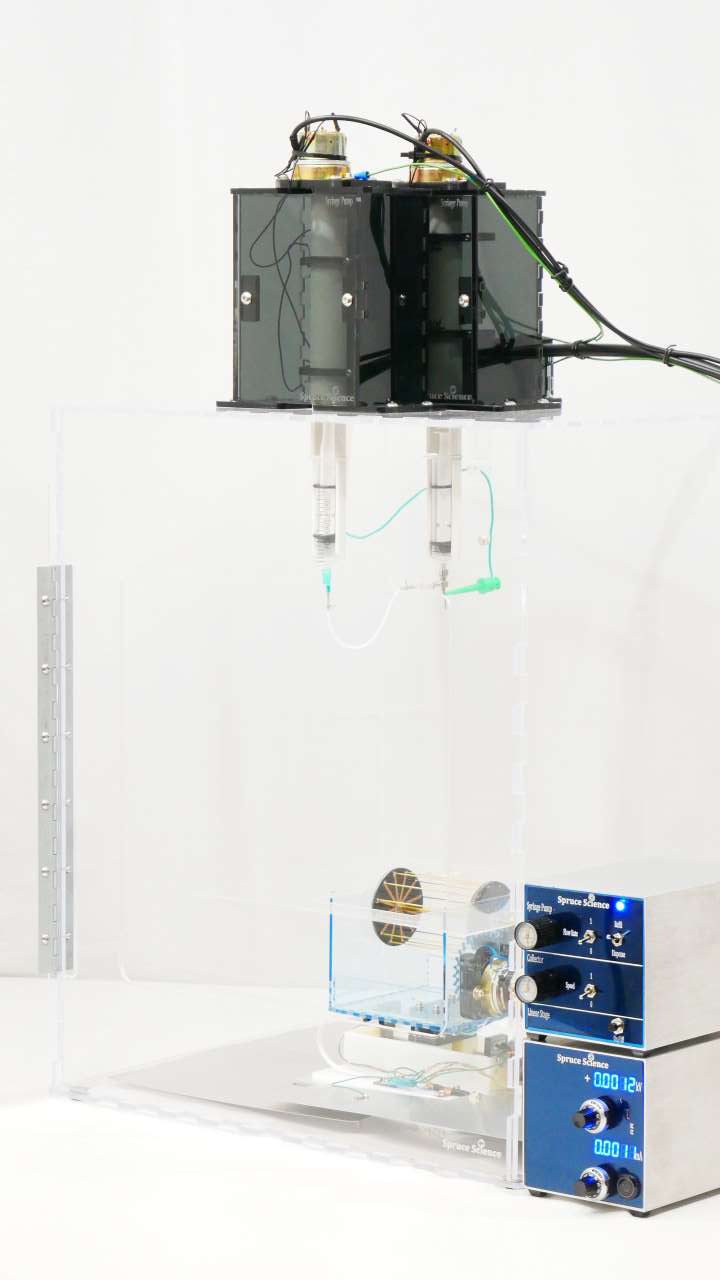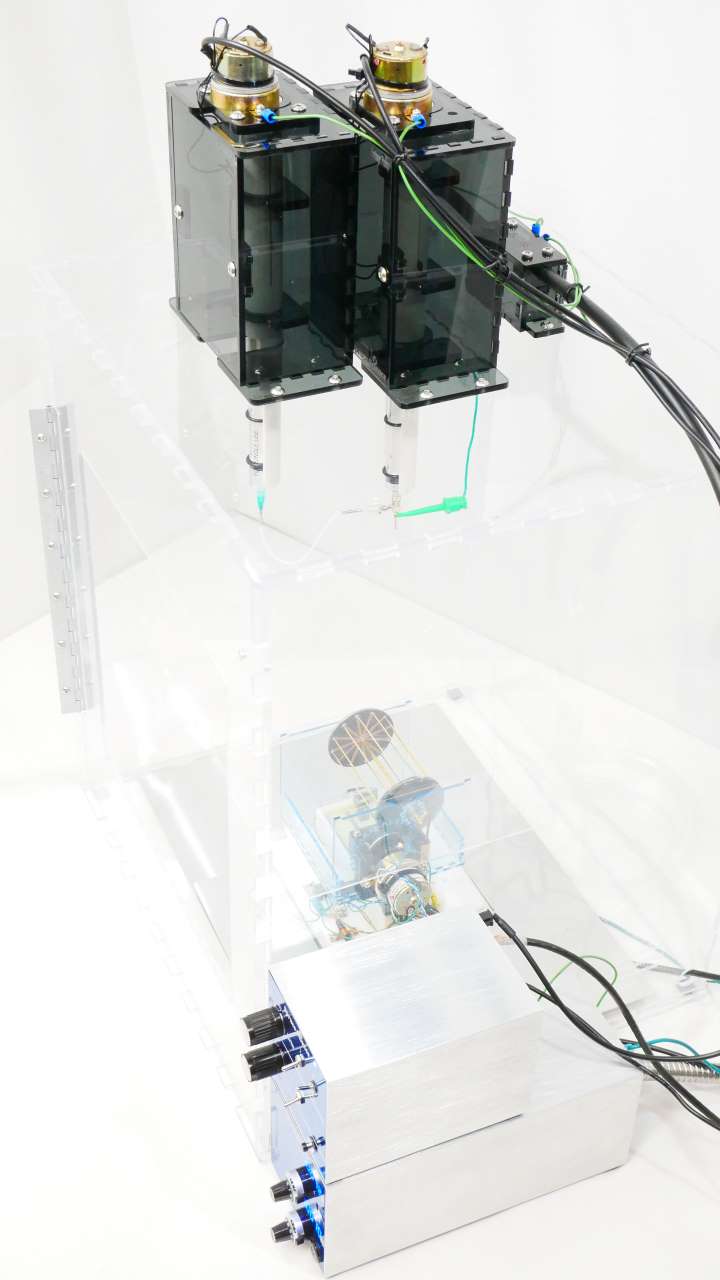 We demonstrate the use of the coaxial electrospinning machine to create compound fibers by delivering a solution of polyvinylpyrrolidone (PVP) polymer to the center needle and red ink to the outer needle using the main and second syringe pumps, respectively. When the two elements meet at the tip of the coaxial spinneret under the influence of high voltage from the adjustable power supply, they combine to form a PVP fiber mat with red markers. The intense electric field generates electrically charged fiber threads and establishes a potential gradient between the needle tip and spinning drum collector.
Under this intense electric field, the fibers are electrostatically elongated and collected. At an applied voltage of 24 kV, a characteristic formation known as a Taylor cone is formed when the high voltage is balanced with the pumping rate. The Taylor cone is then pulled into a jet, which is further disrupted into tiny fibers.

Benefits of Using Polyvinylpyrrolidone (PVP)
PVP is a synthetic polymer that is soluble in water and alcohols, making it easy to work with and form into films. It attracts and holds onto water molecules from the surrounding environment and has good wetting properties. PVP is a versatile material with high heat resistance and good adhesive properties. It is also non-toxic and acts as a good dispersing agent, helping to prevent settling and clumping of solid or liquid particles. These characteristics make PVP an excellent choice for a variety of applications in electrospinning.
PVP is a versatile polymer with numerous usage and applications in a variety of fields. Some examples of its usage include:
Batteries:  PVP is a good dispersing agent for metal oxides and functional carbon materials. It is used to make slurry for batteries.
Adhesives:  As a hydrophilic and high hygroscopic material with low toxicity, PVP makes for good adhesives and is used in pressure-sensitive adhesives and food packaging. It adheres to a variety of materials, including plastics, glass, and metals.
Ceramics:  PVP is used as binders and dispersants in the manufacture of ceramics. Metal oxides can be dispersed in a PVP solution, and its adhesive properties help bind different materials during the ceramic manufacturing process.
Ink:  In the printing and textile industries, PVP is used to disperse pigments in ink and dye fibers. It has good binding properties and is effective in these applications.
Personal Care:  PVP is also used in personal care products, such as hair gel, because it retains its form very well.
In this application note, we have demonstrated the use of a coaxial electrospinner and its spinneret with two concentric needles to create electrospun fiber mats with red markers. This capability has potential applications in targeted drug-delivery systems, such as using electrospun fibers loaded with therapeutic drugs for wound dressings. We have also described the hardware and electrospinning process in detail and highlighted the benefits of using PVP as the polymer solution.
The fibers gathered on the collector have a stunning light pink color and, upon closer inspection, show that the red ink is uniformly dispersed throughout the mat. The electrospun PVP mat with red marker has a fibrous structure and can be easily removed from the collector.
This technology allows us to inject one solution into another at the tip of the needle, enabling us to create a variety of fibers, including coaxial fibers, hollow fibers, compound fibers, or any combination that we desire. In the medical field, this technology can be used to deliver therapeutic drugs directly to targeted cells, tissues, or organs. One specific application is the use of PVP fiber mats as wound dressings, as they can help to maintain moisture around wounds and can be enhanced by the addition of therapeutic drugs. Coaxial electrospinning has the potential to greatly improve wound dressings through its ability to precisely deliver particles, molecules, or liquids to carrier fibers. This combination of moisture retention and targeted drug delivery can greatly improve the healing process for wounds.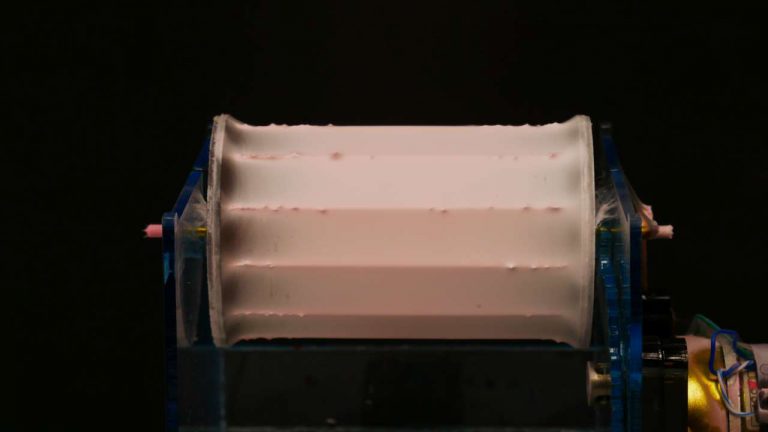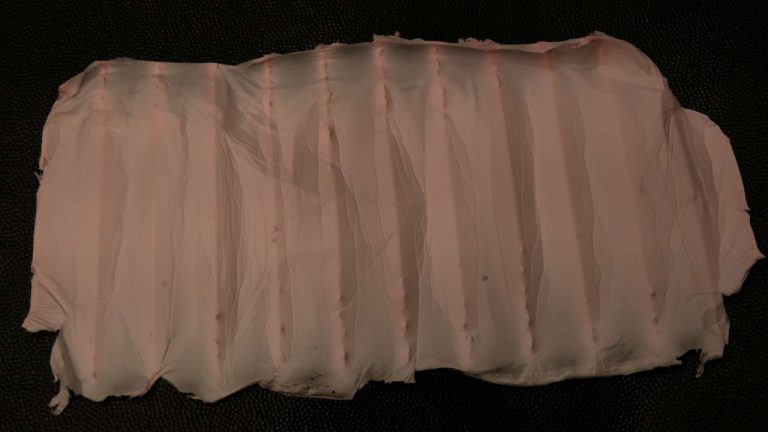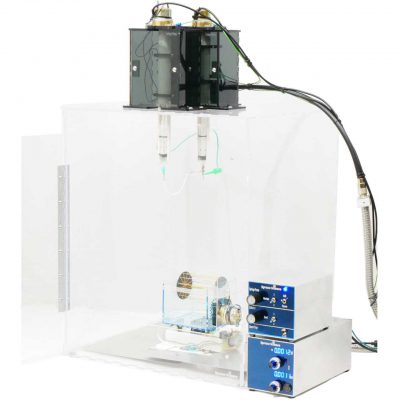 We can send you a short notice when a NEW demonstration is available.
Just tell us where you would like us to send it.